Friday, January 15, 2016
Moslems wiping out Christianity wherever Mohammed's cult resides
Moslem Christianophobia is alive and well. What is being done to stop it ?
by Ferdinand III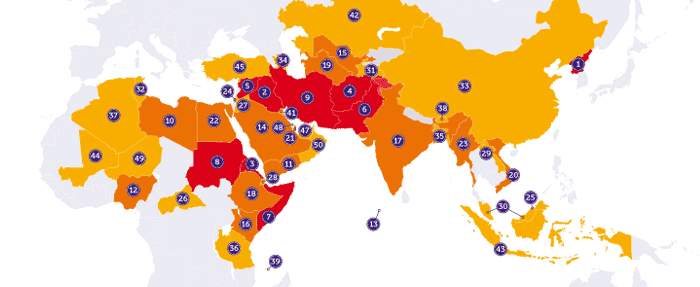 From Open Doors "..More than 100 million Christians are being persecuted globally, according to the 2016 Open Doors World Watch List, and more than 80 percent of that persecution is down to religious fundamentalism of some kind."

Islam is not a religion, but a fascism, a cult premised on Bronze Age ideals. Christianophobia is rife within Mein Koran. Any fool who can read, should read it and understand that a base objective within Mohammed's cult is the eradication of Christianity.
Of the top 15 countries persecuting Christians – 14 are Moslem.
North Korea

Iraq

Eritrea

Afghanistan

Syria

Pakistan

Somalia

Sudan

Iran

Libya

Yemen

Nigeria

Maldives

Saudi Arabia

Uzbekistan

Full list here.

But surely some Quackademic will state that 100 million Christians being killed, raped, brutalized, beaten, with their churches pulled down and their women sex traded, pales in comparison to Islamophobia, and 'radical Christian' terrorism, of which there is zero.