Back
The pagan moon cult called Islam. Islam is not a religion.
Pagan fascisms are not religions.
No greater lie exists than the perversion that Islam is a religion. And one of peace yet. Muslim practices and Islamic doctrine have nothing to do with 'religion'. They are premised on a 3000 year old moon cult, and are concerned with control, power, supremacism and racist ideology. Islam has far more in common with Nazism than it does with Christianity. Is Nazism to be accepted as a religion? If Islam, the most primitive and pagan of pre-modern ritualised moon worship must be embraced as a religion why not Nazism?


Hitler's great statist-fascist experiment was in essence a cult movement founded on the same ideals which animate Islam. Cults share many features. Hitlerite fascism was of course a left-wing, communal phenomenon using the power of the modern state to militarise, terrorise and engage in domestic and international violence. Yet few today would subscribe to the belief that Nazism was a religion, a way of life, a cultural expression or some sort of experiment which went sadly awry.


Not many defend the 70 million dead including 6 million Jews in an industrialised murder, as being unfortunate victims of a brave and morally superior 'new world order'. Nazism was a cult-centric evil of communist proportions, surpassed only in violence and butchery by Chinese, Russian and African marxists, and of course by Islam itself.


Islam in the name of the Arabian moon deity Al-Lah (some aruge it is the Sun idol, or a general celestial God), has killed about 300 million people over 1400 years. It enslaved some 20-25 million Blacks, and about 15-25 million Whites. Slavery still goes on in the Islamic world today, along with terrorism, female mutilation, female bondage, female slaving, and the persecution of Jews and Christians. Freedom, individuality, progress – all are neutered, corrupted or non-existent within Islam.


However, we the publicly educated knaves of the West are told by preening fembot politicians and 'experts' to accept the crass stupidity, forwarded by 'progressives' and socialists, that this murdering machine is a peaceful religion? Interesting. One supposes that Mr. Hitler was likewise an apostle of peace. The Nazi apes, like their Islamic brethren, also clambered about on top of the public corpse, discussing communal salvation, guaranteed social peace, and the 'volksgemeinschaft', or individual-community obligation, in supporting and loving the Hitler cult, and thereby achieving spiritual healing .


It was Hitler's desire after all to turn Linz into a Nazi Mecca and it would have been a short step to declare himself a prophet, inspired by the Norse gods to lead a greater Germany. In fact many German writers and socialist-fascist sympathizers described Hitler as a Christ-like saviour and god-inspired leader. For many Germans Hitler was god's instrument. The Nazi party a necessary vehicle to create a new earth-bound utopia of communal, socialist greatness. Mohammed would have been impressed.


Nazism was suffused with pagan cult practice and a deep hatred of Christianity. The Hitlerites hated not only Jews, but any philosophy or thought which made men 'weak', 'pacifist', 'bourgeois', and boring and middle class. Nazism was a revolutionary socialist doctrine. National socialism – rule of all by the state for the state, with nothing outside the state and everything in it – was in essence a massive program of communal madness.


Individuality, choice, debate, bourgeois living, peace, trade and commerce, dissension, religions, clubs – these and anything else which took away loyalty to the cult would and must be abolished. Guarantees – jobs, health, income, education, pensions – these would be given IF you are 100% loyal to the cult. There is nothing 'right wing' about such a program. This is collective madness.


Islam demands much of the same and given its origins as a pagan moon cult, this is not surprising. Most real experts – meaning those who are not populist politicians, nor the talking heads on TV – know that the word 'Allah' comes from the compound Arabic word, al-ilah. Al-ilah has always referenced the moon cult in Arabia, and in fact within al-ilah there are different moon deities depending on the cycle of the moon and its appearance in the heavens. It is not a mistake that the crescent moon is the symbol of Islam. Allah is the 'male' moon deity and the cycle of the crescent moon was his pagan cycle of ritual.


According to the Encyclopeida of Islam "Allah was known to the pre-Islamic Arabs; he was one of the Meccan deities" (I:406, ed. Gibb), and "Ilah . . . appears in pre-Islamic poetry . . . By frequency of usage, al-ilah was contracted to Allah, frequently attested to in pre-Islamic poetry" (III:1093, 1971). In the Encyclopedia of Religion: '"Allah" is a pre-Islamic name . . . corresponding to the Babylonian Bel' (I:117 Washington DC, Corpus Pub., 1979). According to Middle East scholar E.M. Wherry, whose translation of the Quran is still used today, in pre-Islamic times Allah-worship, as well as the worship of Ba-al, were both astral religions in that they involved the worship of the sun, the moon, and the stars (A Comprehensive Commentary on the Quran, Osnabruck: Otto Zeller Verlag, 1973, p. 36).


The Quraysh tribe into which Muhammad was born was particularly devoted to Allah, the moon god, and especially to Allah's three daughters who were viewed as intercessors between the people and Allah.


In mad Mohammed's home town of Mecca, his family, part of Mecca's ruling tribe, worshipped three moon-astral based goddesses: Al-Lat, Al-Uzza, and Manat. All of these moon deities were worshipped in the shrine called the Kabah, a shrine which Mohammed's family helped to support and protect. Of particular importance was the veneration and kissing of the black asteroid rock called the Hubal signifying a gift from the heavens [later turned into a gift from God to Abraham by Mohammed]. Al-ilah was the common Arabic word for 'the god' or this supreme deity of the moon cult, though this God was never fully described by Mohammed or any Arab for that matter [it was largely an illiterate society].


Al-lah was in essence an abstract concept which probably referred to 'something' which controlled the other moon and astral deities worshipped by the Arabs. It was no accident that when Mohammed started his cult he named it Allah or al-ilah meaning the highest God or deity. It would be a word and a concept well-known to all the disparate Arab tribes with their various beliefs as being something they could identify with.


The moon or celestial cult was thus well known to Mohammed and had been in existence for 3000 years before his birth. Al-Kindi, one of the early Christian apologists against Islam, pointed out that Islam and its god Allah did not come from the Bible but from the paganism of the Sabeans who inhabited northern Arabia. They did not worship the God of the Bible but the Moon-god and his daughters al-Uzza, al-Lat and Manat. Dr. Newman concludes his study of the early Christian-Muslim debates by stating, "Islam proved itself to be...a separate and antagonistic religion which had sprung up from idolatry." Islamic scholar Caesar Farah concluded "There is no reason, therefore, to accept the idea that Allah passed to the Muslims from the Christians and Jews."


Why would moon cult worship pass from the Judeo-Christian world to the Arabic? Moon cult worship has existed for millenia in the Middle East, and polytheistic moon worshipping societies, such as pre-Mohammed Arabia, were the norm, not the exception. Islam is fundamentally a moon cult, polytheistic, primitive and contradictory. Equating 'Allah' which is never defined nor illustrated by Mohammed with Christian or Jewish ideas of God is simply madness.

Islam is not a religion in the Western Judeo-Christian sense of that word. Probably the best definition of 'religion' is this one by Michael York of Bath Spa University College, Bath, UK who defines it as:

"A shared positing of the identity of and relationship between the world, humanity and the supernatural in terms of meaning assignment, value allocation and validation enactment. A religion need not accept or believe in the supernatural, but it takes a position on. Likewise, some religions deny the reality or at least value of the world, but they still take a position."

Religion is largely monotheistic and an enterprise of spirituality, designed to provide a road map for living, a set of laws and ethics, and to regulate behavior through such ethics and perhaps ritual. At its core any religion must be based on some pagan practice. Religious ideas have to have antecedents. But here is the crucial difference between a real religion and a cult. In the cult, the individual has no free will, no independent power, no responsibility, no self-made destiny. He exists to please the cult and its symbol. Submission, follow, repent, and accept. Period. This is Islam. This is Nazism. This is commmunism.

Christianity is wholly different. There are pagan aspects to Christianity of course. Christianity was a Jewish offshoot and the Jews lived and developed their ideology in a turbulent and multi-ethnic and dimensional world. But Christianity exults the individual. There is free will. Freedom of choice. A division between the church and state. A protection of women and the weak. And there is the golden rule – 'do unto others as you would have done unto you'. None of these concepts can be found in pagan cults. The pagan cult demands the communal and the unthinking loyalty of the mass. Christianity preaches the opposite.

Islam is not a religon in our Western sense of what constitutes a religion. It is a cult of obedience and submission. Hence Islam meaning submission, is a very good word choice indeed for the millenia old Arab moon cult.
Islam and the Koran hold no love for Christians
Don't believe the propaganda.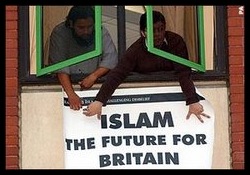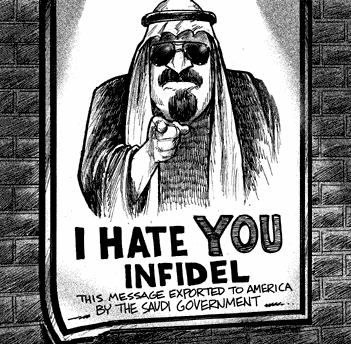 It is a commonplace and entirely untrue lie that Islam had a golden era, and in that mythical state, viewed Jews and Christians as equals. No more absurd claim, other than Globaloney Warming, can be constructed. The Islamic hatred for the Christian was only surpassed by the Muslim detestation of Blacks [the original Kaffirs], and the sinful people of the 'book', the 'devious' Jew. As historian Louis Bertrand so eloquently expressed it, Muslim terror against the conquered Christians in Spain for example, was almost as profound as that against the Jew:
"To keep Christians in their place it did not suffice to surround them with a zone of famine and destruction. It was necessary also to go and sow terror and massacre among them. Twice a year, in spring and autumn, an army sallied forth from Cordova to go and raid the Christians, destroy their villages, their fortified posts, their monasteries and their churches."
Muslim Spain – unmitigated carnage which proves yet again that Islam is peace.
The Arab invasions in the 7th and 8th centuries denuded and decimated more than half of 'Christianity' in the Mediterranean. Jews, Berbers, Christians, Greek-Romans, and the polyglot of merchants, artists, philosophers and skilled tradesmen were all negatively affected, by the onslaught. The Arabs were never a majority until much later in history. In the beginning they had little choice but to squat and rule as a minority. Some degree of 'tolerance' would be expected in such a circumstance. The entire edifice of Muslim rule was premised on the tax farming of Jews and Christians since Muslim males did not pay any taxed. Killing the entire host which supplies your wealth, slaves and cadre of sex vehicles or concubines, is probably not what any rational or in the case of Islam, irrational cult would enforce.
Thus the myth of 'inter faith' harmony. The necessities of tax farming and control over the vastly important slave trade does not mean that the Arabs were particularly interested in allowing 'freedom' or equality to the 'other'. They were very interested in chicks, gold and tax money. Islam is a doctrinaire theology of political power and control. It is not particularly concerned with the Golden Rule [the Koran has none], nor with respect, toleration or gratitude [except to the Meccan male moon deity Ali-ilah]. Though treated somewhat better than the Hindus or Buddhists who were exterminated in their millions, the 'peoples of the book' or Jews and Christians were still dhimmis, and second class slaves. The definitive study of this has been done by the Egyptian born and now French national Bat Yeor – another Islamic critic who is the target of post-modern hate and vitriol. But Yeor knows her topic as she asks of Islam:
"Are these countries conquered by Islam - Portugal, Spain, Sardinia, Sicily, Crete, and the southern regions of France and Italy, for example - Arab lands? The shari'a was imposed as far to the north as Hungary and Poland, not to mention all central Europe, including regions of Greece, ex-Yugoslavia, Rumania and Bulgaria up to the end of the nineteenth century. Are those countries Arab countries, in which non-Muslim inhabitants must return to the condition of dhimmis, whose testimony is rejected by Islamic courts? Are they once again going to don discriminatory garments such as the Talibans today demand; and be subject to the prohibition on building and renovating their churches, like the Copts in Egypt?"
Good questions. Ones that the Western multi-cultists can't answer.
The Dhimmis were and today are, second class slaves. Submit to Muslim power. Pay taxes. Shut up. If you transgress 'norms' we the Muslim elite reserve the right to take your property, wealth and women. Be nice. Be discriminating. And we will let you be.
This is not an orthodoxy of tolerance but of supremacism and control. Tolerating the 'other' to tax them, is not a religious or spiritual enterprise. It is political and economic. As distinguished Orientalist G.E. von Grunebaum has written:
"It would not be difficult to put together the names of a very sizeable number Jewish subjects or citizens of the Islamic area who have attained to high rank, to power, to great financial influence, to significant and recognized intellectual attainment; and the same could be done for Christians. But it would again not be difficult to compile a lengthy list of persecutions, arbitrary confiscations, attempted forced conversions, or pogroms."
Muslims did use educated and well connected Jews and Christians to help manage their empire. Why wouldn't they ? They were a minority, they needed the continuation of some sort of known bureaucracy and it made good PR. Political convenience however, does not make a philosophy of totalitarian control moral, or tolerant. It just makes it cynical.
JJ O'Neill also knows his topic, and writes in 'Holy Warriors' of the open Muslim contempt for the Christian during the so-called Islamic golden age – which never existed:
"The humiliating status provoked many revolts, punished by massacres. Insurrections erupted in Saragossa in 781 and 881, Cordoba (805, 818), Merida (805-13, 828, 829, and 868), and again in Toledo (811-819). Many of the insurgents were crucified, as prescribed in the Koran (5:33)."
Indeed. Bloody uprisings. Even dhimmis can get annoyed by their slave status. Arab Spain was anything but a multicultural paradise so prized by academics. It was a bloody Arab imposition of Koranic tyranny.
Throughout the entire history of Arab and Islamic imperialism the hated dhimmis were excluded from public office and armed service, and were forbidden to bear arms. They were not allowed to ride horses or camels, to build synagogues or churches taller than mosques, to construct houses higher than those of Muslims or to drink wine in public. They were forced to wear distinctive clothing and were not allowed to pray or mourn in loud voices — as that might offend the Muslims.
The dhimmi also had to show public deference toward Muslims; for example, always yielding them the center of the road. The dhimmi was not allowed to give evidence in court against a Muslim, and his oath was unacceptable in an Islamic court. To defend himself, the dhimmi would have to purchase Muslim witnesses at great expense. This left the dhimmi with little legal recourse when harmed by a Muslim.
And this imbalance in rights is now termed inter-faith equality ?
Islam of course has never been restructured or reformed over 1400 years. Islam and its Koranic invocations has remained in place for over 1000 years. It is ossified and static. It will never mutate. H.E.W. Young, British Vice Consul in Mosul, wrote in 1909:
"The attitude of the Muslims toward the Christians and the Jews is that of a master towards slaves, whom he treats with a certain lordly tolerance so long as they keep their place. Any sign of pretension to equality is promptly repressed."
The same is true today. Post 1945 almost 1 million Jews were expelled from Arab and Islamic states for example – thanks to Arab and Muslim racism. Many found refuge in Israel in hastily constructed camps. Those camps were gone after 10 years – its one-time inhabitants integrated into a surging Israeli society. Without a Christian state in the Middle East, Christians have fared far worse. Christian populations in Arab and Muslim lands have declined by 90 % in the past 100 years. The Muslims are either killing or forcing into exile, those 'others' of the book. It is a pattern repeated throughout the world and throughout the course of history. But never mind, the really smart people will still keep telling us that Islam is peace.
Koranic verses demanding the killing of Christians
But Islam is a 'religion' not a Fascism. Hmm. So too was Hitlerism.
If you read Mein Kampf you can't miss the virulent Jew hate, the calls to violence to spread the German-Aryan cult; nor the intolerance against the so-called subhumans which populated Eastern Europe. The program in Mein Kampf is rather clear. Churchill read Hitlers racist-supremacist Bible of Marxist-Nazism and commented that the plan was obvious for all to see. So too was the inevitability of a future war, guaranteed in 1939 by the bankruptcy of the German state.
The Koran is similar to Mein Kampf. The program is rather obvious to any but a delusional multi-culturalist, or those who belong to the anti-American, anti-Western theological movement. The Koran is laced with not only anti-semitic racism, misogny, Jihad, violence, and vituperation against non-beleivers, but it quite clearly demands the annihilation of Christians.
Maybe moderate Muslims and their Marxist-PC cultist enablers can explain the following Koranic injunctions which demand the eradication of Christians:
2:190-193 Fight in the cause of God, those who fight you, but do not transgress limits; for God loveth not transgressors. And slay them wherever ye catch them, and turn them out from where they have turned you out: For tumult and oppression are worse than slaughter; But fight them not at the sacred Mosque unless they first fight you there; But if they fight you, Slay them. Such is the reward of those who suppress faith. But if they cease, God is Oft-forgiving, Most Merciful. And fight them on until there is no more tumult or oppression, and there prevail justice and faith in God; but if they cease, Let there be no hostility except to those who practise oppression."

2:216-217 Fighting is prescribed for you, and ye dislike it. But it is possible that ye dislike a thing which is good for you and that ye love a thing which is bad for you. But God knoweth, and ye know not. They ask thee concerning fighting in the Prohibited Month. Say: "Fighting therein is a grave (offense); but graver is it in the sight of God to prevent access to the path of God, to deny Him, to prevent access to the Sacred Mosque, and drive out its members. Tumult and oppression are worse than slaughter. Nor will they cease fighting you until they turn you back from your faith if they can. And if any of you turn back from their faith and die in unbelief, their works will bear no fruit in this life and in the Hereafter; they will be Companions of the Fire and will abide therein.

2:244-245 Then fight in the cause of God, and know that God heareth and knoweth all things. Who is he that will loan to God a beautiful loan, which God will double unto his credit and multiply many times? It is God that giveth (you) want or plenty, and to Him shall be your return.

4:74-77 Let those fight in the cause of God who sell the life of this world for the Hereafter, to him who fighteth in the cause of God, whether he is slain or gets victory, soon shall We give him a reward of great (value). And why should ye not fight in the cause of God and of those who, being weak, are ill-treated (and oppressed)? Men, women, and children whose cry is: "Our Lord! rescue us from this town, whose people are oppressors; and raise for us from Thee one who will protect; and raise for us from Thee one who will help!" Those who believe fight in the cause of God, and those who reject faith fight in the cause of evil: so fight ye against the friends of Satan: feeble indeed is the cunning of Satan. Hast thou not turned thy vision to those who were told to hold back their hands (form fight) but establish regular prayers and spend in regular charity? When (at length) the order for fighting was issued to them, behold! a section of them feared men as, or even more than, they should have feared God: they say: "Our Lord! why hast Thou ordered us to fight? Wouldst Thou not grant us respite to our (natural) term, near (enough)?" Say: "Short is the enjoyment of this world: the Hereafter is the best for those who do right: never will ye be dealt with unjustly in the very least!

4:95-96 Not equal are those believers who sit (at home) and receive no hurt, and those who strive and fight in the cause of God with their goods and their persons. God hath granted a grade higher to those who strive and fight with their goods and persons than to those who sit (at home). Unto all (in Faith) Hath God promised good: But those who strive and fight Hath He distinguished above those who sit (at home) by a special reward: Ranks specially bestowed by Him, and Forgiveness and Mercy. For God is Oft-forgiving, Most Merciful.

5:51 O ye who believe! take not the Jews and the Christians for your friends and protectors: They are but friends and protectors to each other. And he amongst you that turns to them (for friendship) is of them. Verily God guideth not a people unjust.

5:72-73: They do blaspheme who say: "God is Christ the son of Mary." But said Christ: "O Children of Israel! worship God, my Lord and your Lord." Whoever joins other gods with God, - God will forbid him the garden, and the Fire will be his abode. There will for the wrongdoers be no one to help. They do blaspheme who say: God is one of three in a Trinity: for there is no god except One God. If they desist not from their word (of blasphemy), verily a grievous penalty will befall the blasphemers among them.

8:12-15 Remember thy Lord inspired the angels (with the message): "I am with you: give firmness to the Believers: I will instil terror into the hearts of the Unbelievers: smite ye above their necks and smite all their finger-tips off them." This because they contended against God and His Apostle: If any contend against God and His Apostle, God is strict in punishment. Thus (will it be said): "Taste ye then of the (punishment): for those who resist God, is the penalty of the Fire." O ye who believe! when ye meet the Unbelievers in hostile array, never turn your backs to them.

8:37-39: In order that God may separate the impure from the pure, put the impure, one on another, heap them together, and cast them into Hell. They will be the ones to have lost. Say to the Unbelievers, if (now) they desist (from Unbelief), their past would be forgiven them; but if they persist, the punishment of those before them is already (a matter of warning for them). And fight them on until there is no more tumult or oppression, and there prevail justice and faith in God altogether and everywhere; but if they cease, verily God doth see all that they do.

9:5 But when the forbidden months are past, then fight and slay the Pagans wherever ye find them, and seize them, beleaguer them, and lie in wait for them in every stratagem (trick in war for deceiving and outwitting the enemy); but if they repent, and establish regular prayers and practice regular charity, then open the way for them: for God is Oft-forgiving, Most Merciful.

9:14 Fight them, and God will punish them by your hands, cover them with shame, help you (to victory) over them, heal the breasts of Believers

9:20 Those who believe, and suffer exile and fight with might and main, in God's cause, with their goods and their persons, have the highest rank in the sight of God: they are the people who will achieve (salvation).

9:29 "Fight those who believe not in Allah nor the last day, nor hold that forbidden which hath been forbidden by Allah and his apostle nor acknowledge the religion of truth of the people of the Book (the Jews and the Christians) until they pay the Jizya [tax on non-Muslims] with willing submission and feel themselves subdued."

9:41 Go ye forth, (whether equipped) lightly or heavily, and strive and struggle [fight in war], with your goods and your persons, in the cause of God. That is best for you, if ye (but) knew.

9:73 O Prophet! strive hard [wage war] against the unbelievers and the Hypocrites, and be firm against them. Their abode is Hell, - an evil refuge indeed.

9:123: O ye who believe! fight the unbelievers who gird you about, and let them find firmness in you: and know that God is with those who fear Him.

22:38-39 Verily God will defend (from ill) those who believe: verily, God loveth not any that is a traitor to faith, or shows ingratitude. To those against whom war is made, permission is given (to fight) because they are wronged-and verily, God is Most powerful for their aid

25:52 So obey not the unbelievers and fight strenuously with them in many a strenuous fight.

47:4 Therefore, when ye meet the Unbelievers (in fight), smite at their necks; At length, when ye have thoroughly subdued them, bind a bond firmly (on them): thereafter (is the time for) either generosity or ransom: Until the war lays down its burdens. Thus (are ye commanded): but if it had been God's Will, He could certainly have exacted retribution from them (Himself); but (He lets you fight) in order to test you, some with others. But those who are slain in the Way of God, - He will never let their deeds be lost.

48:29: "Those who follow Muhammad are merciless for the unbelievers but kind to each other."

60:4: We have renounced you; and enmity and hatred is begun between us and you for ever, until ye believe in Allah alone

61:9-11 It is He Who has sent His Apostle with Guidance and the Religion of Truth, that he may proclaim it over all religion, even though the Pagans may detest (it). O ye who believe! shall I lead you to a bargain that will save you from a grievous Penalty?- That ye believe in God and His Apostle, and that ye strive (fight) in the Cause of God, with your property and your persons: that will be best for you, if ye but knew!
66:9 O Prophet! make war on the infidels and hypocrites, and deal rigorously with them. Hell shall be their abode! and wretched the passage to it!
Seems rather clear doesn't it.
Islam is a poli-cracy whose intent is to impose Sharia Law on all people's and states throughout the world. Sharia Law is a barbaric relic from the 11th century, cemented and codified by Al Ghazali and the Asharite true-believers whose modern legacy is now Sufism and Wahhabism. Far from being 'extremist' the current incarnation of Ghazali's immoderate theology is the true Islam. Kill, enslave, humiliate, tax and dominate all non-Muslims. The program is clear. I am sure that Churchill recognized quite a lot of Mein Kampf in his reading of the Koran.