Saturday, July 18, 2020
Moslem arson at Nantes Cathedral? Or just another iconic Christian structure self-hurting?
Globaloneywarming? Electrical short? Gas explosion? Or just Jihad?
by Ferdinand III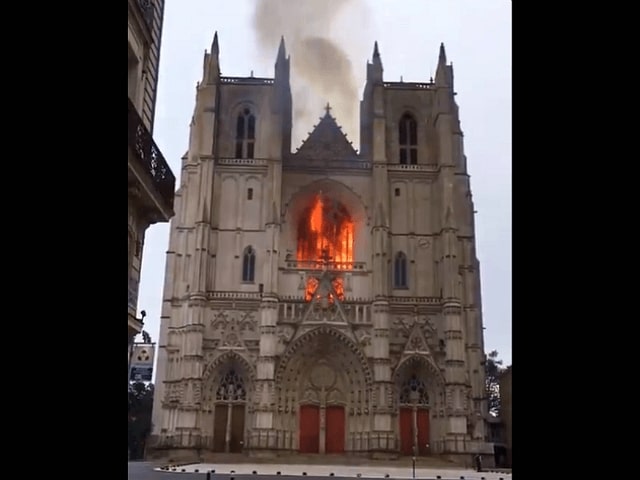 Nantes Cathedral is yet another Christian architectural gem partially destroyed by either a Moslem, Satanic or Atheist arson attack. In 2019 Saint Sulplice, Paris' 2nd largest Cathedral was firebombed by Moslems. Notre Dame was collapsed in an inferno supposedly caused by an electrical short generating 2 large infernos on the roof in 2 different places. Notre Dame was also arson of course. It occurred on Easter Friday, and Moslem workers dominated the various restoration projects. Now Nantes Cathedral is set ablaze.
In France, 3 Churches are attacked on average, each day.
Yet the experts, the Fake News, the Academics, 'those who know', completely disavow the aspect of Moslem Jihad. Funnily enough, until recently none of these structures 'self harmed', had 'electrical issues', or collapsed from the weight of their history. Only when Moslems have swarmed into France in their millions (probably 10 million at least in the country); have Christian symbols, buildings and Churches been under attack….but for large brains this correlation is irrelevant. Maybe it is the non-existent globaloneywarming from plant food which is causing French Cathedrals to self-harm?
"The Roman Catholic cathedral, also known asSaint-Pierre-et-Saint-Paul or simply Nantes Cathedral, is an epoch-spanning structure begun in the 1434 and completed in 1891, described as the "Gothic jewel of the city of the Dukes" by French president Emmanuel Macron.
Regional fire chief General Laurent Ferlay reported that the inferno was contained by French firemen after a two-hour struggle, and that the damage does not appear to be as extensive as in Notre-Dame after a fire ripped through the Parisian cathedral in 2019.
Interior fixtures including the cathedral's great organ and historic stained glass windows have been lost, however, and the authorities are keen to pinpoint the cause of the blaze — with a possible arson attack the current focus of their investigations, according to French media."